If there is one hot topic on the RV forums online, it is the question: gas vs diesel RV – which is best? And there are many opinions on the subject.
It seems that many RV owners think that whatever engine they have is best. But it's just not that simple.
As with so many other subjects having to do with RV living, there is no one solution for everyone. So you have to find out what works best for you and your needs for RV travel.
RV manufacturers still make RVs with both gas engines and diesel engines. And they both sell very well.
So there are those who benefit in some way from the features of each engine. And that means that there are pros and cons for both diesel RVs vs gas RVs.
I am going to try and provide a solid list of these pros and cons for you now. If you have even further points of your own to add to this list, please do so in the comments below.
Gas vs Diesel RV – Diesel Pusher Pros
Disclosure: Please note this post may contain affiliate links. This means – at no additional cost to you – I earn a commission if you make a purchase using our affiliate links. I only link to products and companies I use and feel comfortable recommending. The income goes toward supporting the free content on this website.
Diesel Pusher Cons
Gas vs Diesel RV – Gas RV Pros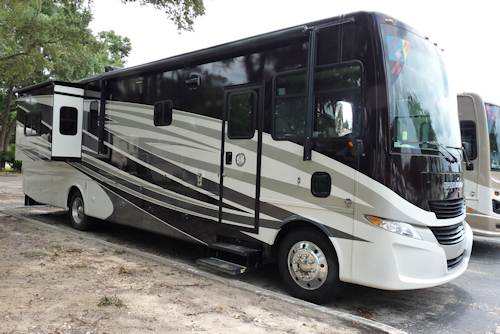 Gas RV Cons
How To Decide Between A Gas VS Diesel RV
When considering a gas vs diesel RV, it's a lot to think about. But essentially, a lot of the differences comes down to cost.
If you have plenty of funds available for purchasing and maintaining your RV, a diesel pusher may win out. But if you are on a budget, a gas RV may make a lot more sense.
If lots of luxury appliances and items are very important to you, then maybe a diesel pusher is best for you. Then again, maybe having a smaller and more manageable RV that can fit in smaller spaces easier is a high priority. In that case, look seriously at gas-powered RVs instead.
The good news is that either one will be fine for enjoying the RV lifestyle. Many RV owners full-time in either a gas or diesel-powered RV while enjoying the RV lifestyle immensely.
And either a diesel pusher or a gasser RV will take you where you want to go in your RV travels equally well.
So diesel RV vs gas RV discussions should not be about RVing success or failure. They should simply be about which kind of RV fits your needs best.
Conclusion
Regardless of what you may hear from other RVers who have already made this decision, the answer is not clear cut.
There are plenty of diesel powered RV owners who are very happy with the choice they have made.
But there are also plenty of gas powered RV owners who are also happy with their decision.
So there is no right or wrong choice between these two types of motorhomes as far as RVing is concerned.
Just balance your needs and concerns and make the choice that will fit your situation best.
You may also consider watching the videos I have made on this subject by clicking on the images below.
I hope this discussion of gas vs diesel RVs has been helpful. Please comment below and add any additional thoughts about this comparison that you may have.
As always, have safe and happy travels my friends!