Buying an RV can be stressful. And if it is a used RV of any type, the stress level only increases. So many questions need to be answered for the buyer. Like has the RV been well cared for? Is there something hidden that could be a major repair? Are all of the important RV systems in good working order?The best way to answer all of these questions is to schedule a certified RV inspection.
An RV inspection is very similar to a home inspection. It gives you reliable information to help you in the purchase of a very expensive dwelling.
But it's also important that the inspection be completed by a certified RV inspector as well. Why is this the case?
A Certified RV Inspection Is Needed – Why?
An RV is a complicated vehicle. And it doesn't matter what kind of RV you may want to buy. It could be a travel trailer, fifth wheel, or motorhome.
But all of them have systems that combine together to make the RV self-contained. That is, you can live in them for an extended period of time, often without the need to hook up to shore power or water. And they will even contain your waste while doing so.
All things considered, RVs are incredibly flexible and adaptable. But that flexibility calls for the RV buyer to know something about the condition of various parts of the RV. Like electrical components, plumbing, heating, air conditioning, LP gas, appliances and more.
A working knowledge of all of these RV systems are needed to get an accurate picture of the used RV's condition.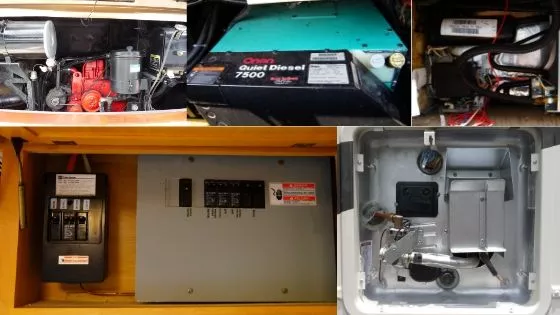 Of course, there are those who have a good overall knowledge of these subjects. But most RV buyers do not fall into that category. That is why a certified RV inspector can be a big help for them when buying a used RV.
They can thoroughly examine all the RV systems accurately and in detail. This is because they have a working knowledge of many different kinds of RVs. And they can provide you with a detailed explanation of each system and its condition.
When they are done, you will have a very good idea of the kind of shape that particular RV is in.
An Unbiased RV Inspection Can Save On Repairs
So how can an RV inspection by a certified RV inspector actually save you money? Well, nobody wants to buy an RV that is a money pit. And the outward appearance alone will not tell you how much work is needed.
Unfortunately, it's also often true that RV buyers start to look at certain rigs with rose-colored glasses. That is, they tend to overlook some of the RV's problems just because of its eye appeal.
So having an RV inspector examine the RV before purchase is a smart move. This is because the inspector is an unbiased third-party that will truly look at the RV in an objective light.
Their one and only job is to give you a fair and accurate picture of the RV you are considering. And even if the report is not a positive one, that can save you lots of money in potential RV repairs. And wouldn't you want to know that before the purchase instead of afterward?
So don't consider the cost of the inspection as lost money. If everything is in good condition, you now have the peace of mind that you are making a good purchase. And if it is not in good condition the inspection will save you from making a poor buying decision.
Save Money On The RV Purchase
Most of the time, an RV inspection does not reveal major problems. But it can often point out smaller issues that the RV buyer needs to know.
And armed with that knowledge, the buyer can then negotiate a better deal. In fact, thousands can be saved on the purchase price with a thorough inspection.
So when you consider the benefits of getting your potential RV inspected, it's worth the cost! One word of warning though! Don't go cheap here and use any old inspector.
Make sure that the inspector is certified, preferably by the NRVIA (National RV Inspector Association). That way you know that the inspection will be handled the right way by a qualified professional!
Have safe and happy travels my friends!