One of the most common comparisons that many new RVers make is Class A vs Class C RVs. Especially if you are intent on having a motorhome instead of a towable RV.
In the motorhome world, these are the two RV classes that have the most room. So naturally, they are ripe for comparisons between the two.
Therefore, let's take a look at both RV classes and try to determine which kind of RVer fits each class best.
Table of Contents
Class A vs Class C RV Comparison
Class A RVs are often built on a bus or commercial truck chassis. And they usually resemble a bus in appearance.
Because of the strength of the chassis used in these RVs, they can safely handle quite a bit of weight.
They can range in size from around 30 feet to about 45 feet in length. And the longer ones are the luxury kings of the RV world, with all kinds of amenities onboard.
A Class C RV though, is usually built on a heavy duty truck or van chassis instead. A common Class C chassis is the Ford F350 or F450.
And this means that they can't safely handle quite as much weight as a Class A.
Note – in this article I am not referencing Super C RVs. They are more or less in a class of their own.
B the best way to identify a normal Class C RV is by the sleeping area that usually juts out over the driving area.
Since the RV part is higher than the cab, it allows this space to be used. And most often that space is turned into a sleeping area above the cab.
Now, let's get to the pros and cons in this discussion of Class A vs Class C RV types.
Class A Advantages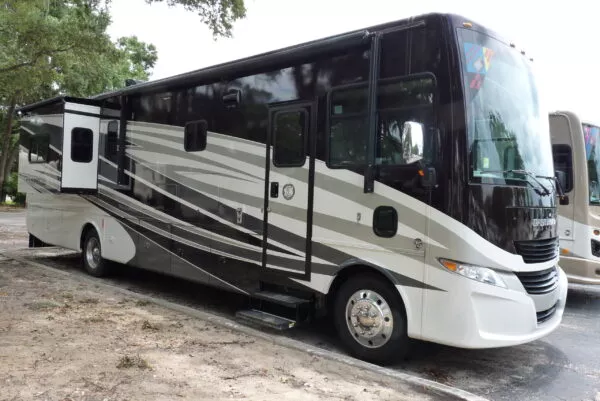 Each class of RV has it's strengths, and here are the pros of buying a Class A RV:
More living space – Class A RVs are usually longer, wider and taller than most Class Cs. This means that you get more living space to move around the RV inside.
More amenities – Because the frame and chassis can safely handle more weight, you can have more amenities in a Class A. Things like washer/dryers, larger refrigerators and kitchens, bigger beds and so on become possible.
More slides – They also can handle more and bigger slide-outs, which also contributes to more living area.
More storage – Typically, Class A storage is greater than what you find in a Class C. But the difference becomes even greater when it's a diesel pusher Class A. Again, all of this is possible because of the extra weight carrying capacity of the Class A chassis.
Larger tanks – Usually the fresh water, gray water and black water tanks will be larger. This allows you to go longer before filling up or dumping your tanks.
More towing capacity – When comparing Class A vs Class C RVs, the engine can be a factor too. In diesel powered engines, the towing capacity is much greater than most gas powered Class Cs.
Better visibility – When driving, it's hard to beat the view and visibility provided by a Class A RV.
Class C Advantages
Now, let's take a look at the advantages of Class C RVs instead:
Smaller and more nimble – Usually Class C RVs are smaller than Class As. That means that they can fit in more campsites. And they will be easier to find a site for boondocking too.
Price – Most often, the price of Class C RVs will be much less than a Class A. This is true of both new and used RVs. That makes it easier for new RVers to get started with a Class C.
More sleeping options – If you have a family, the number of sleeping spots can be important. And Class C RVs tend to shine in this area. Very often they provide sleeping arrangements for 8 – 10 people.
Easier to drive – Because Class C RVs are smaller, they are also easier to maneuver in traffic. Many newer RVers like Class C RVs because of their driving characteristics alone.
Easier to repair – Because they are built on a common truck and van chassis, there are plenty of places where they can be repaired. Engine work is also more easily done on a Class C engine, even by DIYers.
Better fuel economy – Because a Class C RV is usually smaller than a Class A, they often get better gas mileage on the road.
Less trip planning – Since Class Cs are smaller they can fit in many fuel stations and restaurant parking lots. So this eliminates the extra planning needed for stops made in a Class A because of its size and length.
Class A vs Class C – Which Is Best For You?
So having considered the above advantages of Class A vs Class C RVs, which is the best choice for you? What is best for the kind of RVer you are? And for the way you like to travel and camp?
Well, generally speaking, Class A RVs are good choices especially for full-time RVers. The extra living space is a big reason why a full-timer would often want a Class A.
But they are also best for those who really want their luxury items as they travel down the road.
The extra weight carrying capacity of a Class A means that you can essentially have a rolling home. And that appeals to a lot of RV glampers.
Class As are also great for storage, and towing along an everyday vehicle too. So again, this plays into the needs for a full-time RVer.
On the other hand, Class C RVs are great for weekend campers who don't need all of the extra space in a Class A.
And they work very well as the first choice of RV for those who are just breaking into RV life.
Families also benefit from the extra sleeping options of a Class C RV. And even fulltimers who like to travel light and fit into smaller campsites benefit from a Class C too.
Which Should You Choose?
As with so many other matters in the RV world, there is no one solution to everyone's needs. And both of these motorhome types have their place.
And that's why you see so many of both Class As and Class Cs on the road. Obviously, each class fits the needs of a large number of RVers.
So if the Class A vs Class C comparison is one that you are making now, hopefully this article has helped.
I recommend that you define your own camping and travel priorities first. Then try to determine which type of motorhome will best answer those needs.
If you do your homework in advance, you will be able to make the choice that is best for you!