In this article I'll be covering the top three used Class A RVs that I can recommend. Both the brands and models from the last 10 years or so.
Table of Contents
You know, you can really save a lot of money if you buy a used Class A RV. Because new Class A's, I'm sure you will agree, can be very expensive to buy.
Especially if you're going to be looking at diesel pushers. So you can save a lot of money by buying used instead.
Also, sometimes you can't afford to get the luxuries that you want in a new Class A diesel pusher. But if you buy a few years older, you can. So it's a great strategy to buy used in many cases.
But the question is, which brands made quality Class A motorhomes that you can find now on the used market?
Well lets go back 10 years for RV brands and models. And we'll cover the top three brands that made not only diesel pushers but also gas powered motorhomes as well.
Used Class A RVs – My #1 Pick
So let's start with number one on the list. And that is Newmar. Now Newmar has been building quality RV's for more than 50 years now. And they have won numerous industry and consumer awards over that time.
So they've got this great stellar reputation for building quality motorhomes. And the good news is, they have a Class A for just about every price range.
So let's start at the high end. And let's suppose that you have some serious money that you can spend. And you want a used Newmar.
Well then, look on the high end for the King Aire, the Essex, and for the London Aire. These are incredible coaches! They're rolling palaces. And you can't go wrong with any one of these used higher end Newmars.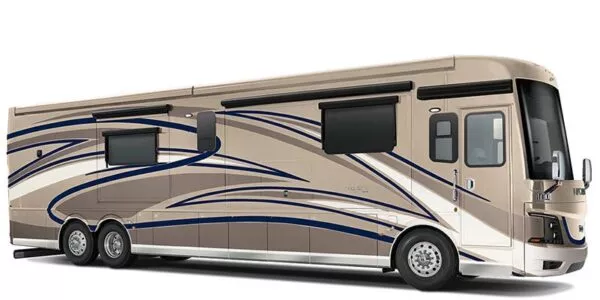 Now in the mid-range there is a model that has been iconic in the industry for years. And it's the Dutch Star. Don't miss this one!
Now you' re going to see a lot of them out there. And there's a good reason for that. There's just a lot of very happy, satisfied owners.
But don't forget that Newmar also makes the Mountain Aire and the Ventana. They are both in that mid-range diesel pusher category. And they are very good coaches as well.
Now let's move on to the gassers. The gas-powered motorhomes from Newmar start with the Bay Star Sport.
That's the lowest cost gasser that Newmar makes. But there's also the Bay Star as well. Also, please don't forget that Newmar put out the Canyon Star at times in a gas powered unit in the past.
They don't do it now, but there were some years where you could buy Canyon Star's with a gas powered engine. So those are all great choices.
Used Class A RVs – My #2 Picks
Now let's move on to number two on our manufacturers list. And that is Tiffin. Tiffin's been building quality motorhomes for 45 years.
They have an excellent reputation for build quality and for customer service. They're just known for that.
Now Tiffin has been owned by the Tiffin family for many decades. But unfortunately at this point they no longer own the company outright. They sold the company to Thor a few years ago.
However, if you're buying a used Tiffin made in the last 10 years, there's a very good chance you're going to get one that was made by the Tiffin family.
Tiffin's Brands And Models To Consider
Now on the higher end of the Tiffin line up, there's an iconic model there. It's the Allegro Bus. And they are fantastic.
They are very solid with very good quality construction. And lots of features and amenities. So that's a great place to start.
Don't forget though, that Tiffin also made the Zephyr too. A lot of people don't recognize that model as much as they do the Allegro Bus. But it's a great choice in higher end coaches.
Now in the mid range, once again Tiffin makes a model that is so well recognized. And has lots of fans that rave about it. That's the Phaeton.
If you visit any campground across the US, then you're likely to see a Phaeton somewhere in it. Especially if it's a good size campground. So the Phaeton has a lot of satisfied and happy supporters.
But in recent years, in the mid-range, Tiffin's been making the Allegro Red series, or RED series too. You just choose the engine size that you want. And they can be very affordable in that mid-range.
Now let's talk about the Tiffin gas powered motorhomes. Because they make one of the best gas powered motor homes that you're going to find on the market.
Over the last 10 years, they've played around with the model name from year to year. But look for the Allegro. Just plain Allegro in many cases. Or Allegro Open Road.
If you find one of these models during the last 10 years that's in good shape, well then you probably have a real find there.
Used Class A RVs – My #3 Pick
Now lets look at the third manufacturer on the list. And I would have to choose Winnebago for this spot. Winnebago's been building motorhomes since 1966.
By the way, do you notice there is a trend going on here? I mean all three of these top manufacturers have been around for years. In fact, for decades.
And they have perfected their building processes. So that's often why they're so highly recommended. And they all get high marks from both dealers and customers.
Now Winnebago generally tended to put the emphasis on the mid-range and gas-powered motorhomes in their Class A lineup.
And there are a couple of used higher-end models you should consider. That is the Tour and the Grand Tour. And they're both fine upper range coaches.
But in the mid-range they also offer you the Horizon, the Journey, and the Forza. All of them are excellent choices as well. And some of those name plates go back for years and years in the RV industry.
Now lets look at the gas powered lineup too. And there's another iconic name there that goes back for decades as well. That's the Adventurer.
But there's also the Sightseer. And on the lower end there is the Vista and the Sunstar. All of them are very fine choices for gas powered used Class A RVs.
Well, those are the top three manufacturers of used Class A RVs. And a list of their models that I can recommend for consideration. Especially in the last decade or so.
Get More Quality Brands That You Should Consider
Now is that all of the used Class A's that I can recommend for you? No, it's not even close to being all of them. There's many more that I can recommend to you as being quality coaches that you should consider.
But the ones I've given you today are a great place to start when shopping for a used Class A RV.
Now I have also created a guidebook that will have a full list of all of my recommended used Class A RVs.
Both the brands and the models for consideration if you are shopping for used Class As. In fact, there are more than 100 models that I recommend in my guidebook.
You can find the guidebook in my online RV Book Store. Just click on this link to learn more about it.
The guide will help you:
Know which used Class A motorhomes were built with the best quality materials and methods in the past 15 years.

Rank the top quality manufacturers of the past 15 years in the Class A segment of the RV market in order

Get the most important facts about each used Class A model including features and specifications.
Get Personal Assistance In Your RV Search
And if you download my guidebook on used Class A RVs, there is an added benefit. And that is that I will personally be available to help with any questions you have.
It could be questions about the RVs themselves. Or it could be about the RV buying process.
But I will be happy to personally assist you in your search for a quality used Class A RV.
Conclusion
Now let me ask one final question of you. And that is, do you have any recommendations for used Class A motorhome brands and models? Ones that you feel are worthy of consideration?
Well then, please let me know what you think about that in the comments below.
Well, that's it for now. Have safe and happy travels my friends!