This article will explain how you can buy a luxury diesel pusher motorhome for less than $100K.
Now that may sound pretty crazy. Because diesel pushers really are the luxury kings of the RV world.
And if you're thinking about a new Class A diesel pusher or gas powered RV, I first of all recommend that you get my Class A Motorhome Buying Guidebook.
Because if you want to know what brands, manufacturers and models are building the best quality today, that's where you're going to find that information. So be sure to check that guidebook out.
Click here to download my Newer Class A Motorhomes Buying Guide
Table of Contents
Is A Diesel Pusher Motorhome Unaffordable?
But if you want to buy a new or slightly used diesel pusher, you're probably going to start around $300,000. And the price goes up from there. So that makes them kind of unaffordable for many RVers.
So then, how can you get a diesel pusher motorhome that's really affordable? For let's say under a hundred thousand dollars? Well here's the secret… you need to buy a used one.
And my personal recommendation is to actually buy one 15 years old or more. Because here's an interesting point that a lot of people don't know.
Between the year 2000 and 2007 some of the best quality diesel pusher motorhomes that have ever been made were produced. They were really making good quality in those years.
But the economic crash of 2008 changed everything. And RV manufacturers cheapened up their product. The unfortunate truth is that it's never really gone back to where it was before the crash.
We don't see the same kind of quality materials and building methods anymore now.
Quality Built Diesel Pusher Motorhomes
But here's the good news. We have several of these older great RV's out there that were made so well. And they're still viable choices for an RVer to choose from.
In fact, they can be a great choice for RVers who can't afford a new diesel pusher today. But would like to be able to enjoy the luxuries and comforts that diesel pusher motorhomes offer.
So the question is what brands should you be looking for back there in say 2000 to 2007? Well, let me give you some suggestions.
I can't cover them all in this article. But I'll give you five brands and some models that they make that you should really focus on.
Click here for a list of all of my recommended older Class A RVs
An Older Diesel Pusher Motorhome – My First Choice
Number one is Newmar. And Newmar makes the Dutch Star, the Kountry Star, and the Mountain Aire. These are all fantastic diesel pusher motorhomes from those years.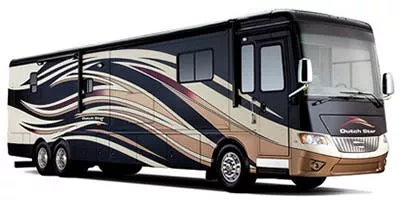 And if you have followed me on YouTube much, you know that I'm a big Newmar fan. I believe that they put out some really good quality coaches. So you can't go wrong with those three models from Newmar.
4 More Great Older Diesel Pusher Motorhomes
Now the second one I'm going to suggest is Tiffin. Once again Tiffin is really high on my list of manufacturers that use good quality methods and materials. So if you can find an Allegro Bus during those years, that's a really good candidate for purchase.
The third manufacturer is Country Coach. Country Coach was building some fantastic RV's during that period of time. So look for the models of Allure, Intrigue and Affinity. They would be very good choices.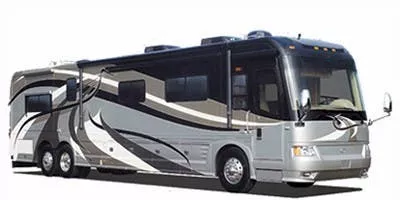 Next up is American Coach. Now American Coach was actually kind of the luxury division for Fleetwood RV. But they sort of became their own entity in the minds of many people.
And they built some very luxurious RV's with a lot of really nice features. The models that you can look for is the American Dream, American Eagle, and American Tradition. Look for those and you'll find that you'll get a very good RV.
Now the fifth diesel pusher manufacturer I can recommend is Monaco. Monaco built a lot of RVs during that period of time. In fact, they were buying up other RV manufacturers too in those years. So the models of Dynasty, Windsor, and Executive could be very good choices for you.
Are These Older RVs Really Affordable?
Now as you can see, just with these five manufacturers, we've got a lot of models that we could choose from to get a really nice diesel pusher motorhome that's built with very high quality.
And here's the great thing. You can buy these great older coaches for pennies on the dollar compared to what they sold for new. And that's a great thing!
You're still going to be able to enjoy all the quality, all the amenities, and all the luxuries. But you get it at a much lower price. And way lower than newer diesel pushers these days.
Make Sure The RV Is In Great Shape
So what do you want to look for? Well here's my suggestion. Number one, try to find one of these older coaches that has all of its repair records intact.
In other words, someone has maintained them very well. And they kept really good records of all the maintenance they did to that coach That indicates that somebody's really taken care of that motorhome.
Number two, before you buy anything that goes back in those years, get an RV inspection by a certified NRVIA inspector. Because yes, there could be hidden problems and issues in motorhomes that are that old.
But if you have an inspector go through it, he's not going to be just looking at how nice it is. He's going to tell you what the issues are, what the problems are.
And you'll know what you're buying then. If there are issues and problems, you very often can get those resolved by working with the seller. And very often you can also get a better price as a result of that.
So be sure to get an RV inspection by a certified NRVIA inspector on those older coaches.
Why Fluid Analysis Will Be Needed
Finally my next recommendation is something a lot of people don't do and they really should. And that is you should get a fluid analysis performed on the engine. Also the radiator, the transmission, and on the generator.
Especially if it has one of those diesel generators, get a fluid analysis done.
Why? Because the fluid analysis will tell you what's going on inside that engine. Or inside that radiator, or transmission or generator. And much better than almost anything else that you can do.
Even better than a mechanic. A mechanic can tell you a lot from looking at the outside. But this actually tells you what's going on inside when you get a fluid analysis.
So if you're buying something that old, then you really need to know what shape the engine, drivetrain, and generator is in.
Conclusion
Now if you'll follow those three suggestions, then most likely you should be in good shape if you buy an older diesel pusher motorhome.
In fact, I did those things and I have a 2004 Newmar Kountry Star diesel pusher. And I am very happy with it. I love it, and there's a lot of other folks like me.
So lets recap what we have covered in this article. Some of the best older diesel pusher brands of motorhomes are:
Newmar – Dutch Star, Kountry Star, Mountain Aire
Tiffin – Allegro Bus
Country Coach – Allue, Affinity
American Coach – Dream, Eagle, Tradition
Monaco – Dynasty, Windsor, Executive
I know several people who have older coaches. And they love them!
In fact many of us prefer these older coaches and the quality that's built into them. Especially compared to what we see being rolled off the assembly line today.
So it's really a viable consideration to buy these older coaches. And you get the advantage of getting them at much less. And being able to also have quality at the same time.
So this is a way to enjoy RV travel at its finest. With all the luxuries you want. And for so much less than what you would spend today.
Well that's it for now. Have safe and happy travels my friends.