This article is about more of the best vehicles to flat tow behind an RV.
Because a couple of months ago I wrote another article about flat towing vehicles. I also made a video about it too. And it became very popular.
In that earlier article, I covered the vehicles that are the most popular for flat towing. And sure enough, that was a great list for a lot of people.
Read my first article about the best flat towable vehicles
But I got a lot of requests for more flat towable vehicles as well. So that's what I'm going to cover here.
Also, the ones I'm going to cover today are vehicles that are pretty much made within the last five years or so. So they're recent vehicles.
There's a lot more that are older ones but I just don't have the time to cover all of them.
Keep in mind too, that not all versions of these models I'm going to talk about are flat towable. Some are, some aren't.
So it's going to require a little bit of homework on your part to determine what is flat towable and what isn't. But I'll cover that later on. So let's go ahead and get started on the list right now.
My List Of The Best Vehicles To Flat Tow
We're going to start to go through the list alphabetically. And we'll start at the B's. Because Buick makes a really nice smaller flat towable SUV called the Envision.
And if you're looking for something smaller but has a lot of nice features, the Envision could be a very good choice.
Now let's move to our next manufacturer which is in the C's. And that's Chevrolet. They make a few vehicles that are flat towable too.
Let's start with the Sonic. Now the Sonic is one that I heard a lot about in the comments on my last video on this subject.
A lot of RVers said, "Hey we use the Sonic and it's really great!" And sure enough, it's a small, great economy car. So that would be a great way to go to keep your RVing costs down.
Best Vehicles To Flat Tow – More Chevy's
But now lets go to the other end of the spectrum from the Sonic. And maybe you want want to tow something heavier. But not one of the full-size trucks I mentioned in my first article about flat towing.
Well then, Chevy makes the Suburban. And the Suburban is a big SUV that has all kinds of features and luxuries.
So if you want to tow something a bit heavier, it would be a great thing to tow. Just make sure that your hitch and your drivetrain can handle that kind of weight.
Next on the list is the Chevrolet Traverse. Now the Traverse is a larger SUV. But it's nowhere near as big as the Suburban. And it has a lot of nice little features and luxuries in it too.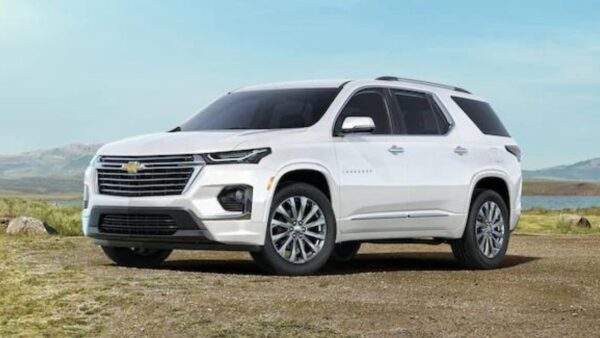 So maybe you want something bigger. But not quite as big as a truck or say a Suburban. Well then, the Traverse could work very well for you.
Ford's List Of The Best Vehicles To Flat Tow
Now let's move on to the next manufacturer on the list. This one also makes several models that are flat towable. And that's Ford.
The one we're going to start with first is one that's almost a brand new model. It actually has a history that goes back many years. But they've reintroduced it. And that vehicle is the Bronco.
The new Bronco has only been out for a couple of years now. And it's a great alternative to the Jeep line of vehicles. Especially the Wrangler.
So if you want something that will take you off-road. Something that will take you out on trails that are way out there, the Bronco could be a very good choice for you.
Next on Ford's list is the Ford Edge ST. It's a smaller, sporty little car.
And maybe you like to have a little sporty car to run around in. Especially while you're parked in one place. Then the Edge ST could be a very good choice for that.
Next up is a smaller SUV. It's the Escape hybrid. I heard about this as well in the last video's comments. And lots of folks are using them to very good advantage.
Again it's a smaller SUV. So there's going to be pretty good gas mileage and economy that comes with it.
Finally Ford makes the Fusion hybrid too. And it's a smaller, sportier type of car. So if that is what you're looking for, it could be just the ticket for you.
GMC Makes The List Too
Moving on down our manufacturer list is GMC. And GMC makes a vehicle that is very similar to the Chevrolet Suburban in almost every way.
It's the Yukon. Once again maybe you're looking for something bigger. Something that can really take a lot of people around with you.
And you need a lot of cargo area in the back to carry things as well. Then this vehicle could be a very good choice for you. So consider the GMC Yukon.
A Couple More Of The Best Vehicles To Flat Tow
Next on our list is Lincoln. And Lincoln actually makes a passenger vehicle that is flat towable. It's the MKZ hybrid.
Now most of the vehicles I'm talking about on this list are SUV's and really smaller cars. Well in this case, Lincoln has made a really nice passenger car or sedan that is towable. So be sure to consider this vehicle as well.
Last on our manufacturer list is Nissan. And Nissan makes a couple of models that are flat towable.
First of all, we'll talk about the Sentra S. Again, this is a small car, with very good gas mileage and so on. So it would be a very good choice for economy because it's a lighter vehicle.
Next up is the Nissan Versa S. Again a smaller car. But a little bigger than the Sentra S. And it has a lot of features in it as well. But it's still very economical to drive too.
So those are the manufacturers and models I wanted to cover with you here.
Don't Forget Manual Transmission Vehicles
Finally, let me mention this. Please remember that many manual transmission vehicles out there are flat towable too.
There are some that may not be. But a very large percentage of manual transmission vehicles are flat towable.
So just check the manual before you buy it. And make sure that it is flat towable first.
The problem is that they seem to be making fewer and fewer of these manual transmission vehicles year after year.
So you might have to hunt a little bit to find one. But it could be a very good choice for you if you know how to drive a manual transmission vehicle.
Getting The Best Vehicles To Flat Tow
Now something else I want to cover with you. And that is about some homework you need to do if you're thinking about flat towing.
Number one, before you buy anything make sure you read that vehicle's owners manual first. For almost every vehicle, there's an owner's manual that can be downloaded somewhere online.
So get it and go through it. See what it says about towing for that vehicle. And make sure that it says it can be flat towed before you buy it.
If you're still in doubt, talk to your car dealer. Or even call the manufacturer themselves That can be done for sure.
And they're usually happy to talk with you about these situations. Because they want you to be happy with the vehicle you buy. So it is a way to get more information.
Base Plates Are Important Too
Secondly, make sure there are base plates available for the vehicle that you're going to buy.
A base plate is what you put on the vehicle to attach to the tow bar that tows that vehicle. Well, some base plates are more popular than others.
And so some may not even be in stock. Especially with the supply chain issues that we have these days.
So before you buy, make sure that it is flat towable first. And then make sure that the base plate is available for it.
Otherwise you're going to sit for a while with no capability of towing. At least until that base plate becomes available.
Best Vehicles To Flat Tow – Match Your Hitch
Lastly, make sure that you match your vehicle to the hitch. And make sure that you're not overloading the hitch on your RV or your Motorhome either.
Then make sure that you're well within the towing capacity of the RV as well.
One of the best places to find a base plate and hitch for your RV and towed vehicle is Etrailer.com They pretty much carry almost any kind of tow bar, base plate and hitch you could want.
Conclusion
Now if you do all of these things. If you go through and you use the list we've talked about.
And you've done your research online and maybe even found some other models as well. Well then, you will most likely have success in finding the vehicle that's right for you.
Then if you've made sure that it is flat towable. And you've got the base plate lined up as well. And all of these issues are taken care of. Then you could have a great flat towable vehicle at that point.
A vehicle that will take you anywhere you want to go in your RV travels.
Have safe and happy travels!